Alibaba Founder Jack Ma: Harvard rejected me 10 times!
By Jack Ma
August 1, 2017




Alibaba founder and chairman Jack Ma in Davos World Economic Forum interviewed by Charlie Rose; amazing interview and amazing insights for entrepreneurs and startup founders. His vision is genuine and ground. Truly inspiring!

https://www.youtube.com/watch?v=o5BKaDCda_0

And More:

Jack Ma and Charlie Rose Gateway '17 Fireside Chat

Alibaba Executive Chairman Jack Ma speaks candidly with Charlie Rose about the group's past, present and future in front of an audience of 3,000 U.S. small business owners in Detroit. -- Published on Jun 21, 2017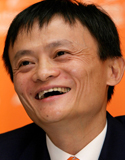 Ma Yun born September 10, 1964, known professionally as Jack Ma, is a Chinese business magnate who is the founder and executive chairman of Alibaba Group, a family of Internet-based businesses. He is currently the richest person in Asia and the 14th richest in the world, with a net worth of US$41.8 billion, as of June 2017. He has become a global icon in business and entrepreneurship, one of the world's most influential businessmen, and a philanthropist known for expounding his philosophy of business. He was ranked 2nd in Fortune's 2017 "World's 50 Greatest Leaders" list.