Trump's Decision to Honor the One-China Policy: How Best to Explain It?
By John F. Cooper
May 1, 2017




On the evening of February 9, 2017, in a telephone conversation with China's President Xi Jinping, US President Donald Trump made a volte-face from his previous statements and pledged to honor America's one-China policy. According to the White House, Trump's decision was made at President Xi's request.

To read more, click http://ippreview.com/index.php/Blog/single/id/368.html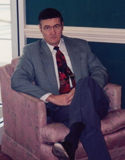 John F. Copper is the Stanley J. Buckman Professor of International Studies (emeritus) at Rhodes College in Memphis, Tennessee. He is the author of more than thirty books on China, Taiwan and US Asia policy.