Minxin Pei
(裴敏欣) is an expert on governance in the People's Republic of China, U.S.-Asia relations, and democratization in developing nations. He currently serves as the director of the Keck Center for International and Strategic Studies at Claremont McKenna College, and is a former senior associate with the Asia Program at the Carnegie Endowment for International Peace. Pei earned his Bachelor's degree in English from the Shanghai International Studies University, and a Master's degree and PhD in Political Science from Harvard University. Pei has been a contributor to a number of periodicals, including
China Quarterly, New York Times, Foreign Policy, China Today, The Diplomat, and Foreign Affairs,
and a frequent guest commentator on CNN, and National Public Radio, among others. In 2008, he was listed as one of the top 100 public intellectuals by Prospect magazine.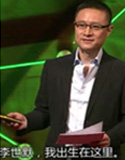 Eric X. Li
(李世默) is a consultant of www.M4.cn and a columnist. At the same time he is a famous venture capitalist, a researcher at the Shanghai Spring Autumn Composite Institute Limited (春秋綜合研究院有限公司) and the Henry Crown Scholar at the Aspen Institute in the United States. He holds a Ph.D. from the School of International Relations and Public Affairs at Fudan University. He received his MBA from Stanford Business School and B.A. from the University of California, Berkeley. Li is a frequent contributor to the
New York Times, Christian Science Monitor, South China Morning Post, Huffington Post
and
Global Times.